WD GANN MAGAZINE - ANNUAL SUBSCRIPTION $135*

*There has been a $35 increase due to merchant fees and new security.
NEW you have access to two past issues plus your annual subscription.
NEED A SUBSCRIPTION/RENEWAL? Scroll to the bottom.

** If you trigger the message "Please subscribe to view this document"
... it is time to renew your subscription for another year. Thank you.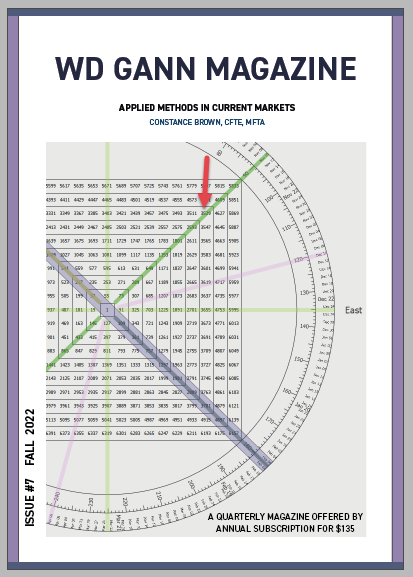 FALL Issue #7 -
(October-December) 2022
This issue contains S&P500,
10Yr T-Note, Gold, Oil, and ARK and MSFT.

SUMMER Issue #6 - (July-September) 2022
This issue contains Bitcoin, S&P600, French CAC 40, Gold,
10Yr T-Note, and more...

SPRING Issue #5 - (April - June) 2022
This issue contains Wheat, Crude Oil, Semiconductors,
Bitcoin, Silver, Forex.


How secure documents are accessed.


NO APPLE products. That means MAC in WIndows simulation as well. You will be able to install the viewer, but not view my documents. Apple does not allow security encryption so I had to block Apple. (MAC, iPhones, iPads) Please use your Windows 10 or higher platform.
1. Subscribe.

2. Your new account will be manually setup. That step triggers an email for you from my email address with a pdf letter attached and your license. Open the pdf first with instructions how to install. Then you will activate your viewer license.

NOTE: You do not have to reinstall again when you renew or add.


3. You will be able to open and read the magazine an unlimited # of times
while the magazines are posted, but they cannot be copied, screen captured, annotated, printed, or sent to anyone. This is mega tough encryption.
4. The security viewer can only be installed on one computer... unless you
purchase more than one license.



Setup is manual... An email will be sent with further instructions. If your PayPal email address is not monitored, please let us know how to contact you. Thank you.
Subscribe for 1 Year ($135) Using PayPal or Credit Card

Pay ($135) for 4 Issues + 2 prior by PAYPAL
(not offered in China)




Pay ($135) for 4 Issues + 2 prior by Credit Card
(not offered in China)